All you need to know about Ascent Vaporizer? Specs, Working & Cleaning
It's hard to find customized vaporizers of your own choice and color. However, afterwards, Davinci Ascent launched its first vaporizer in 2013. Ascent vaporizer is the latest edition that is available in hundreds of designs. They have a programmable vape cycle with a built-in motion sensor and adjustable temperature screen.
In this article, I am going to review the specifications and features of this vaporizer in detail. Moreover, I will mention the complete guide on its working and cleaning. Lastly, I will share its pros and cons, which will help to decide whether it's suitable for you or not.
Specifications Of Ascent Vaporizer
| | |
| --- | --- |
| Total weight  | 192g |
| Overall dimensions | 2.24″ W x 4.47″ H x 1.03″ D |
| Charging Time | 3.5 Hours |
| Heat-up Time: | 23 Seconds (to 230°F) |
| Available colors | Croc Skin, Carbon Fiber, Black Skulls, Burl Wood, Stealth, customized designs |
| Rechargeable Batteries | 2x 18650 (non-removable) |
| Compatible with  | Wax/Concentrates, herbs, oils  |
| Price  | $209.99 |
What Will You Get In The Box?
The following inclusions are present within the box:
2 x Glass Mouthpiece

1 x Instruction Manual

1 x Stir Stick

2 x glass oil jars

1 x battery charger

3 replacement screens

1 carrying pouch

2 x internal glass stems
Warranty Period
They request that their customers claim the warranty. The warranty period is usually two years.
Quality Review Of The Appearance And Design Of The Davinci Ascent Vaporizer
It is available in different designs and colors. In addition to this, you can also go for your own kit customization. However, the presence of the black finish eventually makes it stand out more elegantly in comparison to other products.
Easy-To-Use Box Mod
The box is quite easy to use. Using this, you can easily vaporize any herb, wax, or oil. However, its vapors are not up to par. Moreover, they will still be thin even at their maximum temperature. Actually, this vape uses conduction and convection heat.
Design And Manufacturing Materials
It's one of the best vapes, according to its design. Overall, on the sides, it is made of aluminum. Besides this, you will find the soft rubberized material in the middle of it. You can easily make the design customization within 5 colors. You can find hundreds of different styles and designs on the website.
Vapor Quality And Review Analysis
You will find the flavor-rich vapors from this. You can even find great vapors at low temperatures. This will give the same results for the liquid and wax mediums. In addition to this, the silicon taste will give you these vapors. This will surely linger in the first 10–20 sessions.
Vapor Quality And Taste
The vapors are thick.

When it comes to taste, it has a remarkable and clean taste.

Moreover, you will have the facility of precise temperature control.

It will create pure vapor overall.
Holding Capacity
Its glass is made up of lined ceramic. That can easily hold up the dry herbs, up to 0.3g. Surely this amount will be enough to give you some vaping rounds.
Three-Temperature Cycle Feature
Through the use of this cycle, a great increase or decrease in heating levels can be allowed. You can easily find out the most suitable settings for this purpose.
Afterwards, once they reach the temperature for the creation of the vapors, your device can stay at that temperature before shutting down. Afterwards, when you use it again, it will instantly heat up to that temperature.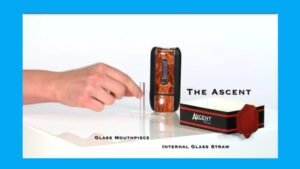 Fahrenheit To Celsius
If you don't want to let your vaporizer temperature be Fahrenheit, you can turn it to Celsius. For this purpose, you have to switch the device's settings from Fahrenheit to Celsius after holding the settings button for 5 seconds.
Battery Type, Life, And Charging Features
Its battery is made up of two heavy-duty lithium-ion batteries. This will also make it a portable option. When you adjust it to 190 degrees Celsius, you can use it for up to 120 minutes continuously. Its battery life is about 3 hours. In addition to this, you can also use the auto-shutoff feature by adjusting the time using the settings display.
Is The Ascent Vaporizer Portable Or Not?
Due to its sleek design, this model is extremely portable. It's right under 200 grams. It's power button is present within the top and next to the mouthpiece. In order to provide easy hearing chambers, they work greatly. However, some of the things are not good or supportive of portability. That are;
Easy to drop

Fragile glass air path

Bit slippery

Drawing stem 
How Do Its Parts Work, And How Does The Vaporizer Work?
It's not a difficult process to use. Near the glass drawing stem, there's the presence of the power button on it. If you turn it on, the digital display will activate.

Using the + and – buttons, the temperatures can be adjusted.

Moreover, on the screen, you will see the battery indicator on the bottom side.

Additionally, there's the option of temperature settings at the top of this screen.

It also has a built-in motion sensor for auto-shutoff programming.

Moreover, there is a personal vape cycle display on it as well.
Once you start to heat up the unit, you will be able to see the thermometer in the center of the screen. Once the chamber heats up, you can see the vapors emerging from it. You can easily adjust the temperatures through the use of three adjustable temperature settings options.
How Do I Clean An Ascent Vaporizer?
The cleaning of the vaporizer is easier. You just need to disassemble it first of all and later proceed with the cleaning. With the passage of time, the resin starts to accumulate in different locations. Now you have to clean up the following:
Glass oil jars

Metal screens

Main heating chamber

Glass vapor tube
In order to clean these components and parts, you have to use isopropyl alcohol. As a result, using this, you can clean ceramic surfaces, metals, and glass residues.
Noticeable Problems And Downsides Of Vaporizers
However, they mention it as a multipurpose device. Besides this, there are some downsides to this product that may be problematic for users. Below the overhang are the three holes. As a result, it will start to show leakage for many dry herbs and vapors.
Faults In The OLED Display
There's an OLED display to showcase the battery of the vaporizer. However, the screen will not exactly and properly represent the battery indications.
It usually takes up to 4 hours to complete its charging. That's too much for a device to get the best experiment overall.
It's one of the most important problems associated with this model. However, it's well built and has a sturdy design overall. Besides this, it's metallic, and metallic screens can be easily lost. As a result of these fragility acts of the components, this is not a good edition overall. You can buy these separately for:
Metal pick for $6.95

Ascent glass for $12.95

Oil jars for $9.95
Analysis Of Pros And Cons
Pros

Cons

With the facility of pass-through battery charging, it has a high battery life.

There's the option of three medium vapes.

Moreover, it has a sturdy and durable design.

All glass vapor pathways

You can order the vaporizer body with customized paint.

First of all, it will take a lot of time to charge.

Moreover, the design of this model is leaky.

Additionally, it has poor screening of dry herbs.

Low-density vapor

Furthermore, the mouthpiece is made of fragile glass. So you have to carefully use this piece.
 FAQs
Q. Is A Vaporizer Good For Your Lungs?
Usually, it will coat the lungs with potentially harmful chemicals and substances in the form of layers.
Q. What Is Davinci Iq?
DaVinci's vaporizer maker manufactures the dry herb portable vaporizer.
Q. What Is The Temperature Of The Davinci Ascent Vaporizer?
It uses the digital temperature set-up option. As a result, you can pinpoint your required temperature. Actually, the temperature at which the best vapor is produced is 350°F.
Conclusions
Aside from the other market vaporizers, the Davinci Ascent vaporizer is the choice of many people. Its vapor quality and temperature set-up, along with working, are great. Moreover, it comes with a 2-year warranty.
Besides the positive points, its mouthpiece is made up of glass that is not suitable and fragile. That needs to be handled with caution. Moreover, it's not a good portable option due to the glass. However, its design is elegant. So choose and purchase wisely.