Vapir Rise 2.0 Complete Review: Features, Compatibility & Pros & Cons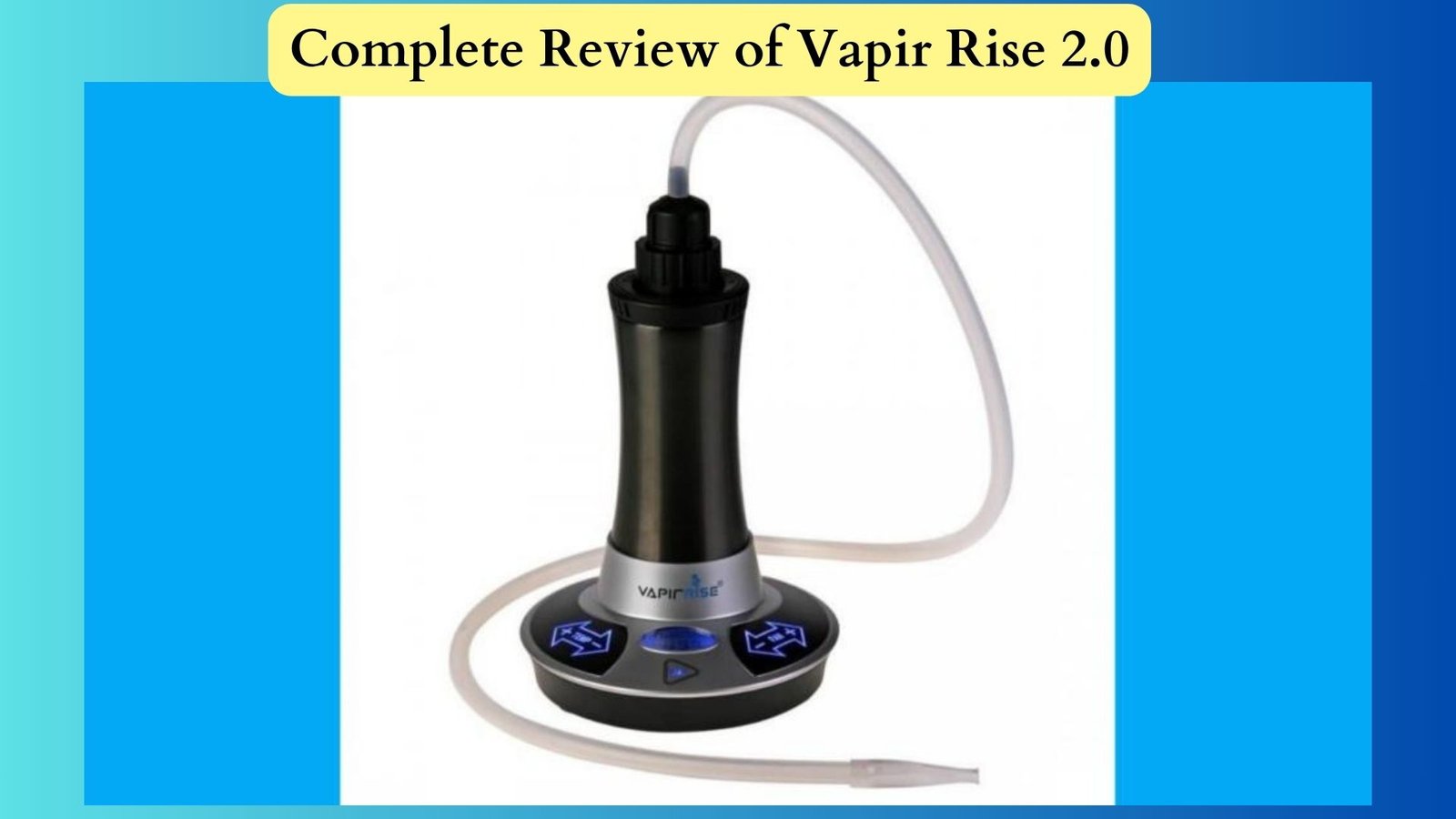 Not each vaporizer is so stable that you can easily adjust and maintain the temperature for vapor production on it. The Vapir Rise 2.0 is a highly powerful stainless steel vaporizer with a high heat-up speed. Through the use of a touch display, this vaporizer becomes more unique, and you can control its temperature easily.
In this article, I am going to review the features, design, portability, and workings of the Vapir 2.0. Moreover, I am going to share step-by-step guidance on how to use this vaporizer. In addition to this, its pros and cons are also discussed in detail.
Feature Highlights Of Vapir Rise 2.0
| | |
| --- | --- |
| Company name | Vapir Inc |
| Overall weight  | 1.5 kg |
| Vape type | Desktop  |
| Type of charging cable  | Recoverable cord  |
| Source for power  | Wall plug |
| Compatibility | Concentrates & dry bud  |
| Delivery methods  | balloon and whip  |
First of all, it easily heats up in less than a minute.

It offers the speed of 10 fans.

Moreover, you can also share its adapter among your friends.

Through the vapor path, it is made up of stainless steel and maintains the heat.

In addition to this, you can easily read and understand its digital display.

In order to vipe silently, there's the feature of power off.

You will get a warranty that is over 2 years.
Total Price: $249.00 
Box Inclusions
One VapirRise® Vaporizer

One chamber

One balloon valve

One balloon clamp

HEPA Air Filter (pre-installed)

Four X-Tip Mouthpieces

One Cleaning Brush

Quick-Start Guide

Three inflation balloons

Two 40" silicon tubes

One Multi-User

Adapter

Power cord

Hot Grabber

One oil chamber
What Should I Choose Between Ballon Mode And Whip Mode?
However, this kit involves the mouthpieces with the clear silicone tube as well as clear balloons. You can choose anything that you think is suitable for you. Basically, this balloon mode comes with a valve system that is made of high quality. Using this mode, you can easily keep the vapors inside the bag. Moreover, it's a great way to store the vapors before inhaling them.
Touch-Screen Control System
Through the screen, you can manage the fan speed, temperature, and heat. Additionally, this LCD touch display makes you feel more relaxed.
Temperature Scale
Using this screen, you can easily maintain the temperature scale on your screen. Actually, the temperature is displayed in Celsius or Fahrenheit. As a result, you can switch between these two. That's why, by changing the temperature settings, you can exactly get the temperature that you want.
Buttons And Backlight
However, you can easily use its buttons, even at night. These buttons are appearing and are available with the blue backlight. However, through the use of the + or – arrow, you can adjust the fan and temperature settings. All of your settings are clearly visible on the LCD backlight.
Is It Compatible With The Waxes, Dry Herbs, And Oils?
This vaporizer comes with several adapters. They are compatible with the use of concentrates and dry herbs. You can use this equipment simply and handle the body of the vapir rise 2.0 with ease. Within a few seconds, you can adjust the oil and dry herb settings easily.
Review Of Manufacturing Quality And Versatility
This equipment is made up of high-quality materials and components. Moreover, it is highly versatile. Using this will give you customized offers as well. If you are enjoying it with your friends and people at a party, you can blow the balloons easily. Moreover, in terms of manufacturing quality, it is similar to the volcano hybrid.
Vapor Flavor And Quality Review
Firstly, it offers high-quality vapor production.

Moreover, you will get flavorful vapors from using it.

Aside from that, all other vaporizers at 204 degrees are offering high-quality and tasteful vapors.

Within the temperature suggestions, it will give out thick vapors.

The vapor purity is also great in its action.
Features Of A Fan And HEPA Filter
This vapir is using the HEPA filter and the fan system. 

This fan is helpful to clean the air before making clouds. 

However, these are usually used for balloon inflation or can be directly whipped. 

This filter usually removes 99.9% of the contaminants and fine particles from the vapor.
Electric Power Supply
For the operation, the desktop vaporizer supplies the electric power easily. However, for storage, it's a good option because the cord is removable too.
Portability And Flexibility
This device is highly amazing due to the shiny surfaces that make it flexible. However, it uses attached bags of whip that work greatly for the vaporizer to make a volcano vape. It's a portable product that can be useful and can attach up to four ears.
How Do I Use Vapir Rise 2.0?
It will surely give you pure convection vapor. Moreover, it works with the presence of the heating chamber that comes in the enclosure of stainless steel. Additionally, it works together with the internal fan to produce pure vapor.
First of all, you need to preheat the system before you use it. You have to do this before each session.

For preheating, follow the following settings: Adjust the fan settings to minimum and adjust the temperature to 190 degrees Celsius. Afterwards, let it sit in this position for three to five minutes. 

Besides this you can also heat it at a temperature of 80 degree Celsius for 20 to 30 minutes. 
Moreover, you will find different numbers of heating chambers.

According to your vape session, you can select and customize the settings of the heating chamber.

Now add the ground botanical herbs to the removable chamber. You have to do it during the time of preheating.
Afterwards, wait until it rises to the desired temperature. Later on, click on the chamber.

Finally, you are ready for your first session.
Video link: 
How Do The Units Work With The Oils?
You can combine the liquid pad and the easily cut plants in the bowl. Through the use of the liquid pad, then use the plant chamber for high temperature providence to make them vaporize. Through this, high-temperature oil vaporization can be easily received.
Pros And Cons Of Vapir Rise 2.0
Pros

Cons

First of all, you get a user-friendly experience with its design.

Moreover, it features and facilitates the working of the balloon and whip.

It's compatible with herbs or concentrates.

In addition to this, it offers precise temperature controls.

It's a great edition that you can easily share with four vapers.

Additionally, it's an affordable piece.

Within the bag, it will take a long time in bag mode.

When the heat is simultaneously turned off, you can't turn off the fans.

There's no average quality of vapor.

Additionally, it has a large number of parts that are not good for new users.
Frequently Asked Questions
Q. How Do I Regulate The Temperature On Vapir 2.0?
However, it offers a digital system for controlling temperature. Through this, you can precisely control and manage the temperature of the vapors.
Q. How Many Puffs Of Vape Equal One Cigarette?
Puffing around 15 times is equal to one cigarette.
Q. Is A Vaporizer Bad For Asthma?
Using this vaporizer, the lungs can irritate and block the airways. In asthma patients' cases, it's more likely to cause asthma attacks.
Final Verdict 
A person who has just started using the vaporizer Vapir Rise 2.0 is the best choice to use. The reason behind it is the presence of an easier control system. Surely, its interface will give you quite a relaxing experience and easier utilization. Using this, you can easily use the oil and wax vaporization effects.
Moreover, inside the packaging, you will find all of the necessary equipment that is useful with it. In terms of other features, you can check the reviews about its functions through this article. For more reviews, visit https://marketbusinesstech.com.